This book is dedicated to
Martin KIPPI Kippenberger
at his 65th birthday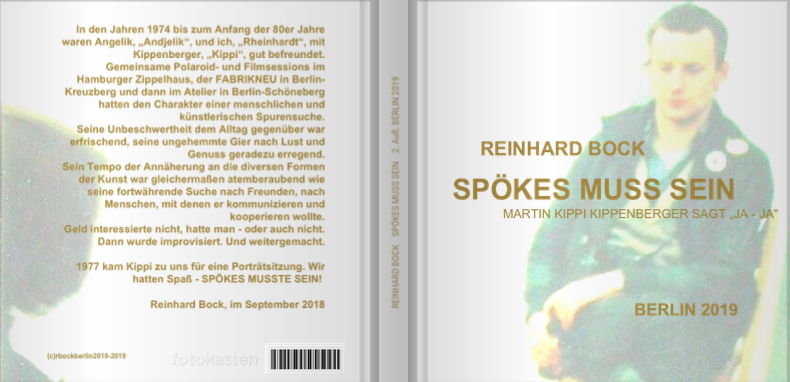 Bookcover of 3rd edition, 2019
[ Deutsche Nationalbibliothek:
http://d-nb.info/1201005892
]
Kippi (*1953 - †1997) would have celebrated his 65th birthday in 2018, an age where most people end their professional careers and retire. I'am sure that Kippi wouldn't have become a "Rentner" - artists never come to a rest, they are on the search for the best work to accomplish for ever.

In 1977, returning from Florence and for a while living in fabrikneu with Claudia and Jürgen Skoda, Jenny Capitain and Klaus Krüger, Kippi came to our studio in Ansbacher Straße to have a portray done by Angelik.

Remembering the good days we spent with Kippi in the early and mid 70th in Hamburg's Zippelhaus and Berlin's fabrikneu and that portray session in Studio Ansbach in particular, I wrote this book to honour our friend KIPPI posthumously - letting come to life again all the fun we had by telling about the "making of" that lovely etching by ANGELIK RIEMER.

I added a whole lot of scanned polaroids taken during the scetching session and many scans of KIPPI's early artworks - and, of course, scans of the sketches and the final print.

The book has 48 pages with text and scans of
12 original polaroids of 1974 - 1980
taken by me and
25 photo & text documents of 1974-1979
depicting the KIPPENBERGER PORTRAY(s)
by ANGELIK RIEMER
and some early SPÖKES works
by MARTIN KIPPENBERGER.

• 3rd exclusive hardcover layflat edition of 3
including DVD¹
"RIEMER ZEICHNET KIPPENBERGER"
by Reinhard Bock

• standard softcover edition of 44.
*
Scoll down to see some sample pages:


*
Some more books about the
work of ANGELIK RIEMER:
Read and see some preview pages of
»
ANGELIK RIEMER phase 9 (2015)
or »
ANGELIK RIEMER AND JAPAN (2009)
or »
ANGELIK RIEMER - 7 SCHAFFENSPERIODEN (2008)
or go to the »
website of ANGELIK RIEMER
*
¹Please, watch the super8 film
which I took during the portray session

»
HERE
**