A Catalogue for a
Posthumous Exhibition
showing the last works of ANGELIK RIEMER: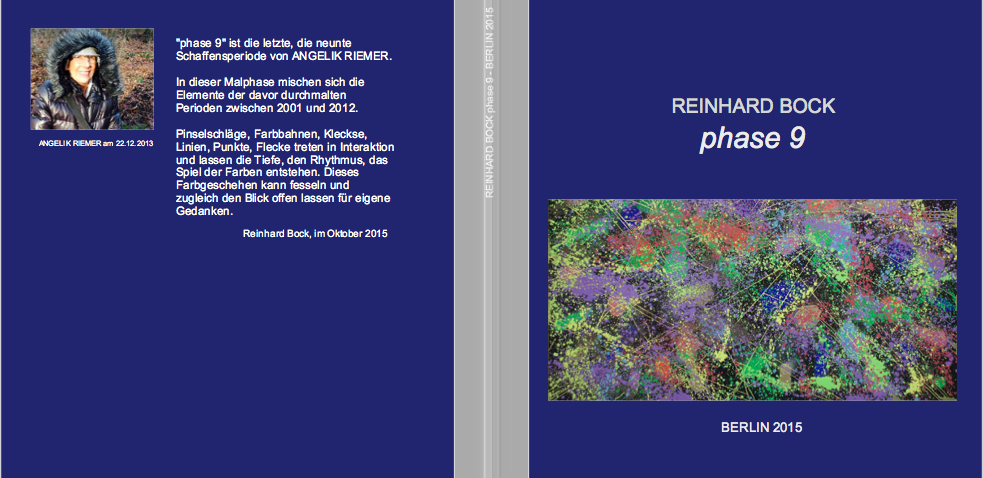 Bookcover
Angelik Riemer passed away
January 2014
just after having finished
15 works in a
new style of painting
called
"vielfarbige pointilistische Interaktion"
(multicolor pointilistic interaction - Riemer, 2013) .
She developed this style
between spring 2012 and autumn 2013,
all works of this exhibition were painted in 2013.

An exhibition in cooperation with
Roland Goeckel Projects
was already arranged
but fatal illness stopped
further progress.
In 2015
Roland and I managed to get
phase 9
ready at
FREIES MUSEUM BERLIN
where friends, collectors and critics
were able to say a
LAST FAREWELL TO THE ARTIST ANGELIK
*
Scoll down to see some sample pages:


*

you are here: »phase9

see also: » PARISER BLAU UND ANDERE FARBEN (2020)
see also: » ANGELIK RIEMER AND JAPAN (2009)
see also: » ANGELIK RIEMER - 7 SCHAFFENSPERIODEN (2008)

or go to the » website of ANGELIK RIEMER
or read about Angelik's portray session
with Kippi aka Martin Kippenberger
» SPÖKES MUSS SEIN
**