Echoes of 15 Years of
Angelik Riemer's
German-Japanese Cooperation: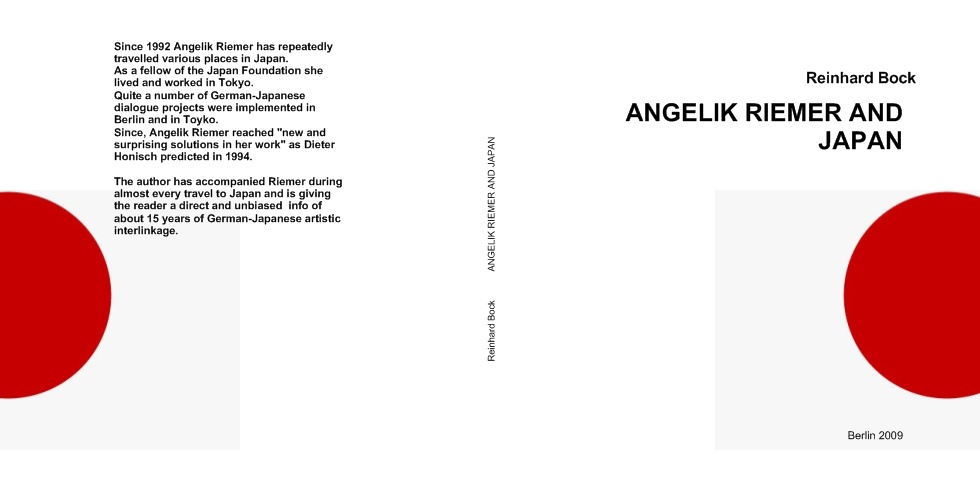 Bookcover
***
In 1992 Angelik Riemer travelled Japan
for the first time
and fell deeply in love with
this amazing country.

ART FRONT GALLERY
in DAIKANYAMA/TOKYO
contracted her in 1993
starting a long and intense
art dialogue in Japan.
In spring of 1995
she went back to Japan
holding a scholarship by
JAPAN FOUNDATION,

for one year she worked
in a shared studio at
NIHON DAIGAKU ART DEP.
experimenting with
PRUSSION BLUE ON WASHI

In summer she went down to
YAMAGUCHI-ken
where she was given
a traditional Japanese house
to work in for a month. And she travelled
KYUSHU.
Between 1998 and 2010
she often returned to Japan
most often to
TOKYO and KYOTO
to get inspired
see friends
visit museums and art galleries.

In 2009 Angelik presented this book
on NIHOMBASHI where in 1992
she did her first private art show.
Some pageviews » HERE
» see also: PARISER BLAU UND ANDERE FARBEN (2020)
» see also: ANGELIK RIEMER phase 9 (2015)
»you are here: ANGELIK RIEMER AND JAPAN is this page
» see also: ANGELIK RIEMER - 7 SCHAFFENSPERIODEN (2008)


» go to Website of ANGELIK RIEMER