Echoes of 15 Years of
Angelik Riemer's
German-Japanese Cooperation: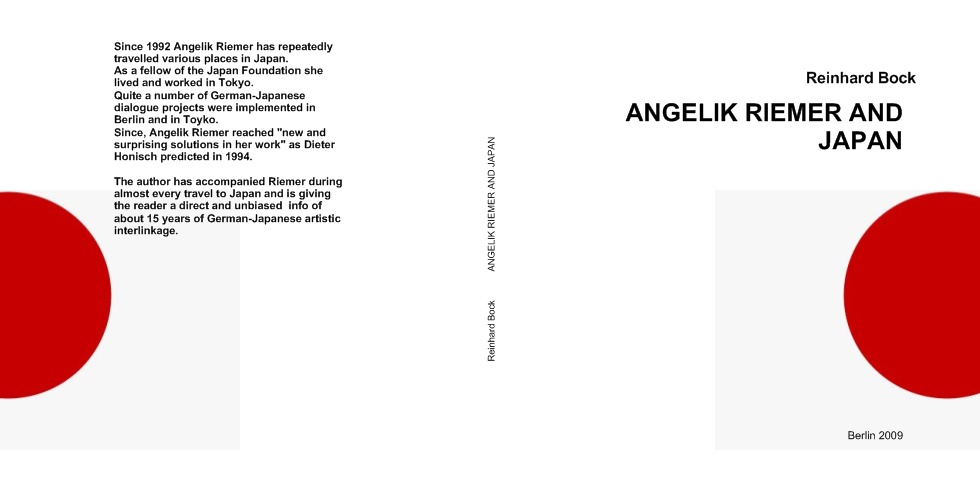 Bookcover
***
In 1992 Angelik Riemer travelled Japan
for the first time
and fell deeply in love with
this amazing country.

ART FRONT GALLERY
in DAIKANYAMA/TOKYO
contracted her in 1993
starting a long and intense
art dialogue in Japan.
In spring of 1995
she went back to Japan
holding a scholarship by
JAPAN FOUNDATION,

for one year she worked
in a shared studio at
NIHON DAIGAKU ART DEP.
experimenting with
PRUSSION BLUE ON WASHI

In summer she went down to
YAMAGUCHI-ken
where she was given
a tradional Japanese house
to work in for a month. And she travelled
KYUSHU.
Between 1998 and 2010
she often returned to Japan
most often to
TOKYO and KYOTO
to get inspired
see friends
visit museums and art galleries.

*
You are here: » ANGELIK RIEMER AND JAPAN.
Some pageviews of this book » HERE

see also: » PARISER BLAU UND ANDERE FARBEN (2020)
see also: » ANGELIK RIEMER phase 9 (2015)
see also: » ANGELIK RIEMER - 7 SCHAFFENSPERIODEN (2008)

or go to the » Website of ANGELIK RIEMER

or read about Angelik's portray session
with Kippi aka Martin Kippenberger
» SPÖKES MUSS SEIN